>> Thursday, October 22, 2009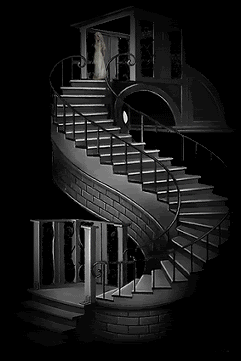 I have posted this a couple times in the past. Yes, not only is it that time of year, but this post seems to be the

Number 1

post that is searched for, when people who don't know me, find my blog. Interestingly, not all the 'searches' to my blog for

Ghosts in Syracuse

are from locals, as many are from around the country and even a few who've searched out ghosts in Syracuse area are coming from out of the country as well.
So yes, I'm reposting it. And if anyone knows of any other supposedly haunted areas in Central New York that hasn't been mentioned here, please include it in the comment section.

An update as of October 27, 2006 -
Spooky in CNY
.

In keeping with my love of Autumn and kinda being a kid at heart when it comes to Halloween, I thought I'd post local areas that 'supposedly' are considered Haunted.
There are several that I've heard of when a teenager and many others that I wasn't aware of until an adult and doing a search on them. Some of these were taken from a Syracuse article, and can be found
here
and
here
.
I leave it up to each person to determine for themselves, if these are only tales, or something else.............................................
The Landmark Theatre
is probably the most famous of all the local haunted places, and is supposedly haunted by two ghosts, though there has been 'contact' made with only one. Her name is Clare or Clarissa. The story goes the actress saw her fiancé electrocuted, then fell from a balcony to her death.
"No fewer than a dozen people claim to have seen, heard or felt the ghosts of the hallowed theatrical house on Salina Street once owned by Loew's but now the Landmark. Some know
her by name: Clare.
She has inspired a children's book and a theater show, though no one really knows her tale. Psychics say she is a frustrated actress, wife of a dead theater hand.
She occasionally appears in a favored balcony seat or stands before a flapper-era gilt mirror, brushing hair no breeze can stir. A psychic once described her as "Nice, but a little snooty." Stagehands say they've seen a spectral woman stand, turn, disappear. Others have been called by name: "Mark, when are you leaving?" "Phil, what are you doing?" An
eerie blue light warms banisters and seats. An upstairs corridor is always cold.
A ghostly electrician has been spotted backstage. The Walnut Room is said to be
crowded with spirits - flashlights go dead there - while the Red Room is the color of blood for a reason. But then, what would you expect of a place with catacombs?"
There is an interview that
News 10 No
w
had done last year of Stacey Jones, who apparently is some sort of 'Ghost Buster'. She has done some work at the Landmark and had recreated Clare's
death for an upcoming landmark event. You can see the video
here
.
The next seven haunted places came from this
article
.
13 Curves - Now this story changes some in the details, depending on the teller, but the heart of it is this:
A young couple just married were riding along Cedarvale Road headed for Marcellus. They never made it through a snaky section called the 13 Curves. It's only about a mile of road in a place some call Pumpkin Valley and others call Pleasant Valley. All agree the curves can be treacherous. The couple may have been in a coach, or in a '30s roadster, or on a motorcycle. Whatever they were riding, it didn't make it around one curve. It doesn't matter which one - it was their last. They crashed and were thrown apart. Each died alone.
It's the woman who can't seem to leave the road behind. From time to time, usually around a Friday the 13th or Halloween night, she is caught in a car's headlights or glimpsed in a rear-view mirror. She wears white, her eyes glow, and she sometimes floats above the asphalt. She appears to be looking for someone ...
(I want to know where this next one is located exactly, 'cause this is my neighborhood!)
Footsteps in Eastwood -
"There's a little house in Eastwood where a woman once heard someone walking around her basement. She was alone. But things were shifting on the shelves. Sometime later, her son told her about the blurred figure he'd seen out of the corner of his eye in the attic. When the woman mentioned these things to a friend who'd stayed over, he told her about the big man with the white hair he'd seen walking around the dining room table. On three separate nights: clomp, clomp, clomp. But when the friend approached, the white-haired man was gone.
A neighbor had once lived in the house. Yes, she said, there is something there: One night while her husband was at work and her kids were asleep, she heard footsteps in the cellar. They came up the stairs. She was petrified. They came toward her bedroom. They stopped, turned, and went into the dining room. She heard footsteps going around and around the dining room table: clomp, clomp, clomp. She never saw a thing. When her husband came home, they stood in the dining room. It was deadly cold."
Fiery Haunt -

(West Seneca Turnpike and Midland Ave.)
The firefighters would never say Engine Co. 18 was haunted. But many who worked, slept and served there heard the footsteps. Like someone walking around the station, when no one's there. Upstairs, in the dormitory, where the firefighters slept. Someone downstairs or in the bathroom would hear the footsteps and call out or go look. The footsteps would stop. No one there.
One night, a firefighter was in bed. He heard steps and looked up. He saw a figure at the top of the stairs. The firefighter got up and started toward it. Gone. He called out to the only other firefighter in the station. He was asleep, downstairs. The firefighter went back to bed. He looked up, and saw the figure at the top of the stairs.
No one hears the footsteps anymore: The firehouse is now a senior citizens center at West Seneca Turnpike and Midland Avenue.
Ghostly Command -
James Lynch built a house on a 100-acre farm north of Syracuse when he came to Onondaga County from Ireland in 1835. The house and farm passed through three families before the Army Air Corps built the Mattydale Bomber Base around it in 1941. It was home to a succession of commanders at Hancock Field.
Some heard footsteps when no one was about. Others heard music when none should have played, saw lights pop on when no hand touched a switch. Cats were jumpy, and slept under beds. There was a dirt floor and snakes in the basement.
There was the shadow, which commanders and their wives saw pass from den to living room, or move silently up the stairs.
One colonel saw it clearer than most: It was a man, wearing a long, caped Inverness coat. He had long gray hair and made wood floors creak.
The Air Force moved out in 1984. The city of Syracuse owns the house. Those who rent it prefer not to talk - or hear - about gray ghosts in Inverness coats. Or snakes in the basement.
Ghost on The Hill -
Something runs along Seneca Hill no one's been able to catch.
Many longtime residents of the Oswego County hamlet say they've never seen it, but know people who have. Most have heard about the woman and the little girl. They've been seen running, barefoot and terror stricken, along the hills beside Route 481 since before Route 481 ran there.
Some say the woman wears a bonnet, or carries a basket. Others say both she and the little girl run barefoot. But all put them running scared. Most see what they see within a square formed by Routes 57, 481 and 45, and Dutch Ridge Road. A disparate group of people, many quite reasonable, has seen something running at Seneca Hill for more than 50 years. One woman stopped her car, ran after the woman, but lost her on a hill. A psychic has called it the Seneca Hill Manifestation. It tends to manifest itself at Halloween or in early November. Some have seen the woman running in mid-July. No one, not even the psychic, knows what she runs from. Or to.
Spirits of Split Rock -
When the munitions plant at Split Rock blew on July 2, 1918, it sent the bodies and souls of 50 men into the ether. Fifteen were never identified, their remains buried in a common grave. Some say it is these ghosts who remain restless, 77 years after the the Rock blew up. They roam the ledges or stand on the ruined rock crusher of the old quarry, endlessly turning a phantom winch. They glow in shades of green and yellow, a ghostly afterimage of the effects of picric acid, which once stained miners' skin yellow-green.
Creakings in Cazenovia -
Cazenovia recently celebrated local hauntings with its Spirit Walk. Two tales from that outing:
When Sydney and Helen Fairchild lived at Willowbank on the shore of Cazenovia Lake, Mrs. Fairchild liked tea with her needlework. A loyal servant we'll call Nellie always made sure Mrs. F got her tea on time. Nellie was so prompt, so loyal, even the grave couldn't keep her. For years after Nellie's death, Helen Fairchild would hear the clink of china and rattle of the tray on the stairs. She would feel a cold hand on her shoulder, an affectionate gesture of Nellie's. It didn't matter that Nellie was dead. She was still punctual.
Bonnie Bradstreet, who with her husband, Roger, has owned the house 17 years and run it as a bed and breakfast for four, said neither she and her husband nor their three grown children ever encountered Nellie.
"No one in this family has even had an inkling of this woman still being with us," she said. "I wish she was. I could use the help."
Charles and Helen Fairchild, relatives of Sydney and Helen, built a mansion just down the road. It is now the Lorenzo State Historic Site. For a time, a descendant, George Ledyard, lived in a guest house on the grounds, South Cottage. His wife, Annie, died there. Some years later, South Cottage was loaned to family friends, rent free, as a wedding gift. But a prior resident apparently didn't approve of the contract, and let the couple know.
"Locked doors flying open, books flying off tables, spectral figures sitting in chairs - the usual sorts of things," says site manager Russ Grills. "It culminated in a figure sitting in a rocking chair by the fire, smoking. Which made everyone decide it wasn't Annie after all." Annie never smoked; the ghost puffed a pipe.
The newlyweds moved out 30 years ago, and the Ledyard family gave the property to the state. South Cottage, gutted and rebuilt, is an office. No one's heard from the ghost since the renovation.
~ Baldwinsville - Jacksonville Cemetary - Eerie things seen in the back of the cemetary, a stream in the back of the woods seems to pull you towards it. Often eerie sounds heard at night, and a black cat with glowing green eyes seems to watch anyone who walks in. As you near the back, more creepy feelings seem to come upon you. Often a teenage girl is seen wandering seemingly aimlessly throughout the nights, watching, sometimes following people. In the back woods, gunshots are often heard, and screams following.
~ Baldwinsville - Whiskey Hollow - It is a 5 mile road with no street lights or houses. It is all forest. It is said that back in the old days devil worshipers and members of the KKK used to worship up there and kill children as sacrifices...it is said that if you drive down the road at night you can see the children walking and there is also a bloody blanket. it is a very eerie feeling.- June 2005 Update/ Correction: The story of the KKK and satanic rituals is most likely false. Rumors are told that at some point in the past it was told that a man had been wrongly convicted of committing murder. Either as punishment or in holding before his punishment he was placed in a small shack at the end of Whiskey Hollow Road. Due to some mysterious circumstances the man died in that shack before his execution or during his incarceration there. Stricken with the grief of not only his wrongful conviction but also his untimely death his wife hung herself on a tree down Whiskey Hollow Road upon hearing the news of his death. Many claimed the tree still stands there.
~ Camillus - Brickyards - Walking through there on a clear night, there is said to be a gargoyle that comes out at midnight. Strange winds that only hit certain people & flash lights malfunctioning only to work when leaving the area.
~ Camillus - Tow Path Ghost - A drunken Canalman is said to have fallen in the water near the aqueduct. He was caught in his own line and dragged to death by his mule. A dark figure can be seen pacing the path leaving behind wet footprints.
~ Camillus - Walnut West Apartments - One apartment in this complex has been said to be haunted by a little girl. All of the tenants from this one apartment have moved out as fast as they have moved in. When mentioned even the managers of the complex agree that the place is haunted by a little girl. The complex is said to be built on what was once a farm and the little girl was believed to have been killed there.
~ Chittenango - Creek Road - Creek road is a spooky back road in Chittenango. you must veer off to the left. look in the trees to see a ghostly white image. very creepy!!!! seen 6 times with own eyes don't know what to explain it as.
~ Chittenango - Gulf Road - a very steep and twisted road in the middle of a dense forest, whose trees come right up to the side of the road. Sightings from driving down the very creepy road at night include seeing a burning cross in the woods, headlights making the shadow of a woman standing on the side of the road (with nobody there to make the shadow), and unknown noises and sightings of spirits.
(DK - This one's for you!!!!) :)
~ Clinton - Clinton Library - This library is haunted by ghosts that roam around in daylight or night. You can hear them whispering and footsteps walking. Sometimes even books fall out of the bookshelves without anyone near them. There is a up stairs, and up there you can hear footsteps coming up and down the stairs.
~ Cortland - SUNY - Cheney Hall - "Elizabeth" was student at Cortland who resided in one of the oldest residence buildings on the university campus, Cheney. She was reportedly pushed from the fourth floor down the central staircase by her boyfriend in the early eighties. Strange happenings have been reported by students ever since.
~ Elbridge - Smart's Wayside Inn - The ghost of a revolutionary war soldier haunts the second floor of this restaurant.
~ Fayetteville - Wellwood Middle School - It is said that a child that died in a skiing accident is now roaming the hallways, slamming doors.
~ Fulton - Fulton junior high school - lights turn on and off, doors shut by themselves, kids can hear voices in the hallway during classes and they look around and find no one, the toilets flush by themselves. it is scary
~ Oswego - 19th century mansion that now serves as off-campus housing for students at Oswego State University. The building used to be a nursing home, and at least one friendly womanly apparition "revisits" occasionally, according to those who have since lived in the house. The woman allegedly was a resident when the home was a nursing home.
~ Oswego - Fort Ontario - Ghost hunters have reported finding evidence of ghostly activity in a few of the buildings. A blonde girl was seen in the third story window of one of the officer's quarters. The third stories of the building are used for storage and not accessible by the public. The Fort was closed at the time.
~ Oswego - Lighthouse -said to be haunted by three men who went up there to change the light bulb during a storm and they never came back.
~Oswego - Oswego Players Theater - An old bum is said to have died in the basement and his ghost haunts the area where the dressing rooms are. Things are moved from where they were left. Doors open and close by themselves. A friend who was alone in the women's dressing room saw a hanger on the door begin to swing and abruptly stop.
~Oswego - Post Cemetery - Locals claim the ghost of soldier George Fikes will haunt the person you name if you perform a ritual that involves jumping over the grave, spitting, and lying on the grave while reciting the appropriate chant. None of the kids I grew up with was ever brave enough to perform the entire ritual, but the last time I was there there were still bare spots on either side of the grave.
~Oswego - railroad tracks between the fort and Lake Ontario - It is rumored that a civil war soldier from Fort Ontario had his head shot off by a canon ball. He is said to walk along the disused railroad tracks looking for his head. A floating light moving along the tracks is said to be him or his lantern
~ Syracuse - Woodlawn cemetery - A strange white apparition has been known to chase visitors.
So if you are feelin' adventurous, why not head out to investigate a few of these places, grab a steaming cup of hot cocoa or hot mulled cider, and venture out some evening for a truly Ghoulish time.
~ Spooky ZZ
© 2009 Greeneyezz